Computer CPU is most important part of a system. A computer or a server may have also multiple CPU's. CPU's are main temperature creators which warms the case. CPU consist of millions of transistors which mainly runs electrical gates and logic. This will create some heat.
CPU Heat
As CPU consist of million of transistors it will create a lot of heat. CPU also uses most of the power computer. This makes CPU to host heat too. Overclocking also made CPU warmer because the speed of the CPU will increased.
GPU Heat
GPU or Graphical Processing Unit also contains processors which is similar to the CPU. GPU provides less powerful processor but this will also create some heat. Recent and Gaming GPU's will create some heat too.
CPU Fan
CPU fan is mainly designed to make CPU colder and export CPU's own temperature. If CPU fan is not working properly or there is some obstacle in the CPU fan the CPU and computer temperature will be higher.
Temperatures Meaning
Before looking to computer temperature applications we need to understand the meaning of the temperatures. CPU's generally runs around 60 centigrade but as statend previously there may be some effects which will increase the temperature.
`Under 60° C ` means everything is OK.
` 60° C – 70° C ` means there is no problem but there may be some work like cleaning the dust of the computer.
` 70° C – 80° C `  means there are some problem and check the CPU fan and ultimately clean dust of the computer.
` 80° C -90° C `  means warning if you are overclocked the system turn to to normal frequencies and clean the dust. If not ask to your computer technician.
` Over 90° C ` right now stop the computer because if not your computer will burn.
List Of Computer Temperature Applications
In this part we will list some of the useful computer temperature monitor applications and widgets for Windows and Linux.
Core Temp is a compact, small footprint powerful program to monitor temperature and other important information.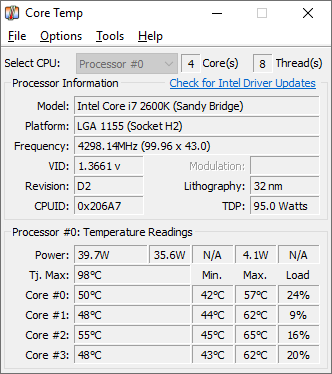 CPU core temperatures are shown separately. Another great feature is core load is listed too. Current power usage shown also in general.
HWiNFO is general tool used to get information about all hardware or components of the computers. CPU temperatures also shown in detail with this tool.
NZXT Cam App is a complete PC monitoring solution which provides the ability to monitor computer temperature remotely.
The Open Hardware Monitor is a free open source software that monitors temperatures of sensors, fan speeds, voltages, load and clock speeds of a computer.
As we ca see from screenshot the computer CPU temperature is 40°C and 48°C because there is two core. We can also see that Fans are running around 650-700 RPM.
Speed fan is a free tool which provides basic information about the system hardware. It can list information like CPU, system and HDD temperatures.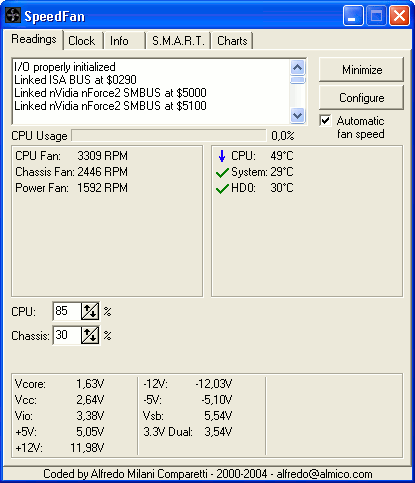 Real Temp is a temperature monitoring program designed for all Intel Single Core, Dual Core, Quad Core and Core i7 processor.
As we can see from the screenshot that it is around 60°C  . It can also display historical computer temperature with minimum and maximum values.7
Speccy is a simple, fast, lightweight system information tool provided by CCleaner . It provides computer temperature in a simple manner. It also provides motherboard temperature which is 58°C .
HWMonitor isa hardware monitoring program that reads PC systems main health sensors: voltage, temperatures, fans speeds.